Press release:
Sinti and Roma commemoration online this year due to Coronavirus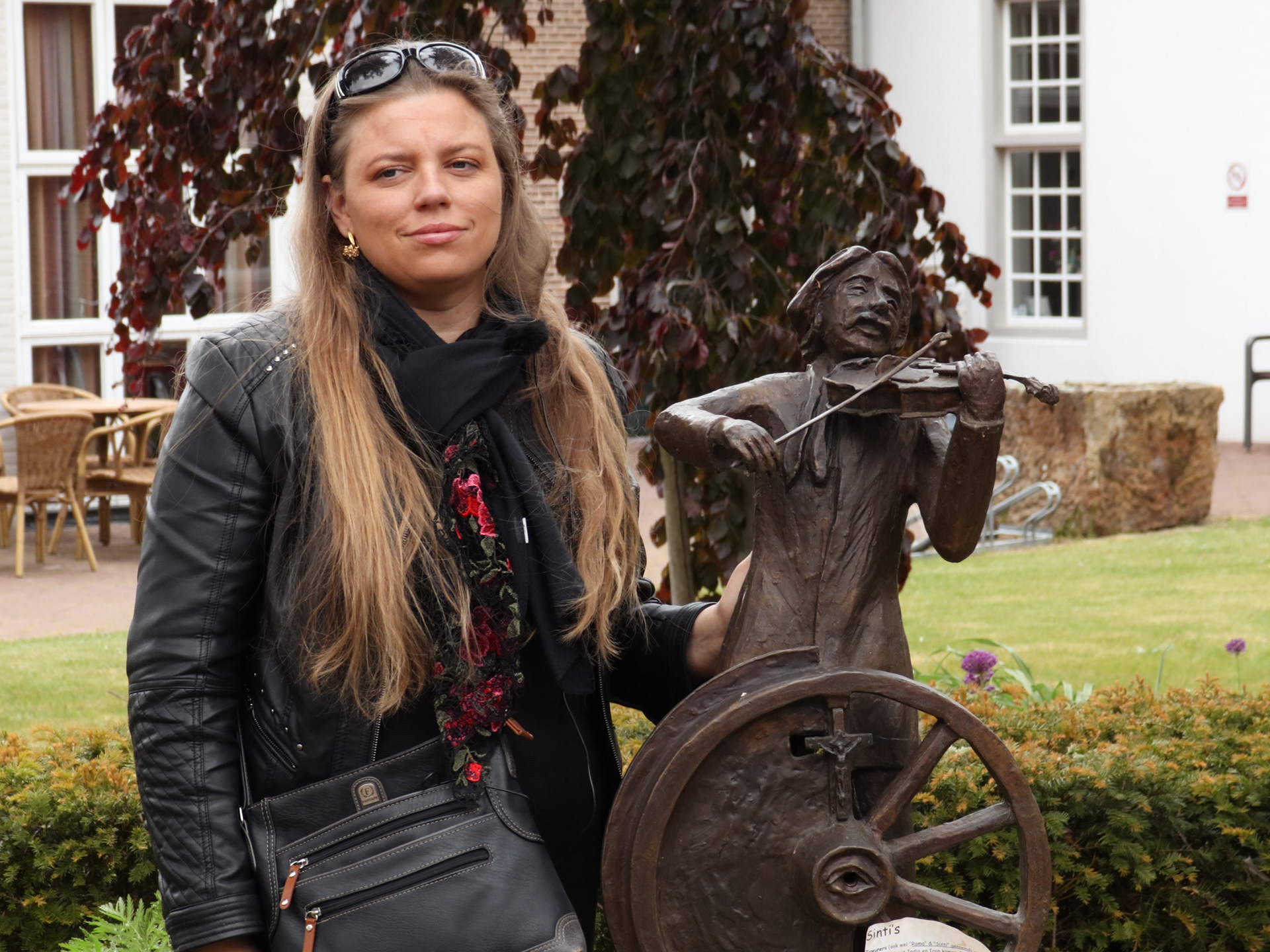 Amsterdam, 31 July 2020
Little is still known about the mass murder of Sinti and Roma during the Second World War. On Sunday 2 August, the annual commemoration would take place in former concentration camp Auschwitz-Birkenau. Normally, next of kin would lay a bunch of flowers, tell history and reflect on what happened in the past. This year, however, all this is physically impossible because of Corona. That is why Sabina Achterbergh is organising an online commemoration via
YouTube
and
Facebook
. 
During the Second World War, in addition to Jews, Sinti and Roma, people from the resistance, Communists, people with Down Syndrome and LGBT people were gassed. In the night of 2 August 1944, thousands of Sinti and Roma were murdered in Auschwitz. Estimates vary, but it is expected that approximately
500,000 Sinti and Roma
were murdered during the Second World War. 
Wreath laying on Dam Square
Human rights activists Galit and Sabina laid a wreath on Dam Square on 4 May 2019 during the National Commemoration with Galit's mother, Zanna Brassem-Weiss. Among other things, she lost a grandfather, a brother, uncles, aunts and cousins. Galit sometimes says that he lost 80% of his family in the war. What makes it even more painful is that this family was arrested by Dutch policemen. Because these war victims have no graves, the family members lay flowers a few times a year during the special days, such as Sunday, August 2, 2020.

Two initiatives on 2 August 2020
Would you also like commemorate the Sinti and Roma Holocaust on Sunday August 2nd? Here are two initiatives: 
First of all, we ask you to share
the video below
in your network at 14:00. It's about a commemoration in Auschwitz-Birkenau. In this video Johnson (an English Traveller), Pepino (a Belgian Roma) and Sabina (a mix of Sinti and Travellers) will speak. They share about what such a visit does to them.
Experience small-scale commemoration via Facebook at 20:00 hrs (GMT +1:00).
Secondly, the same Sabina will lay flowers in small (physical) circles at the Gypsy Monument Hel en Vuur on the Museumplein in Amsterdam at 20.00 hours.  She will share this on Facebook at the same time, so that more people (at a safe distance) will remember the commemoration. Do you want to stay informed? Like, comment or share this
Facebook post
.
Human rights activists Sabina and Galit recently travelled to Auschwitz Birkenau to commemorate the Sinti and Roma Holocaust. Because of Corona, they will not be able to lay a flower at Auschwitz this year to honour Galit and Sabina's family. That's why we share the video below on Sunday, in the hope that more people will get the Dikh He Na Bister message (Look back, don't forget).
We appreciate it if you share the video on Sunday August 2nd at 2 pm.
Contact & About Sabina Achterbergh
Since 2008 Sabina has been fighting the extinction policy. After ten years it went off on a national level. On a local level, there is still plenty to do, so she gives a lot of advice on all kinds of things. In addition, she is often active on social media. In the past with Hyves and now with Facebook. Sabina can only be reached by phone at: +31 6 4151 5292 (not by whatsapp, but by text message), or by email at woonwagenbelangen@gmail.com. 
Ps. Sabina, Galit and Rik are doing a documentary. Would you like to be kept informed by email? Sign up
here
.
Members of the press are free to take over this message. Please mention the times and location of the commemoration (Sunday, August 2, 20.00 hrs, museumplein, Amsterdam). Are you planning to come? Please report to Sabina Achterbergh regarding the number of people and the Corona measures. Please text your name and how many people you are coming with: +31 6 4151 5292.
Translated with www.DeepL.com/Translator (free version)
Telefoon: Sabina is bereikbaar op: +31 6 4151 5292